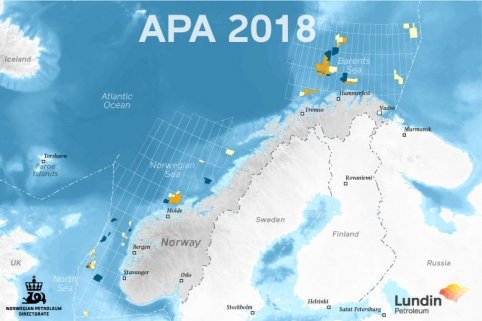 APA 2018 – 15 licences awarded in the Norwegian licensing round
15 January 2019
Lundin Petroleum AB (Lundin Petroleum) is pleased to announce that its wholly owned subsidiary Lundin Norway AS (Lundin Norway) has been awarded a total of 15 exploration licence interests in the 2018 Norwegian licensing round (Awards in Predefined Areas, APA).

The record-high award includes 8 licences in the North Sea, 2 licences in the Norwegian Sea and 5 licences in the southern Barents Sea. 9 of the awarded licences will be operated by Lundin Norway.
The awards from this licensing round builds on the Company's existing six core areas and will support starting to build a new position in the Norwegian North Sea close to the Horda platform area.
The licence interests are detailed below and maps of their location are provided on the following page.
Licence

Block

Lundin Norway
licence interest

Licence Area

PL338E*1
16/4
50%
North Sea
PL338FS*1
16/1
65%
North Sea
PL976*
17/4,5,6,7,8,9
50%
North Sea
PL981*
16/4
60%
North Sea
PL987
30/7,8,10,11
20%
North Sea
PL988*
30/5
40%
North Sea
PL989
36/7
30%
North Sea
PL991
 34/7, 8
40%
North Sea
PL998
6306/7, 8
30%
Norwegian Sea
PL1011
6509/11,12; 6510/10
40%
Norwegian Sea
PL1023
7123/6; 7124/1,2,4,5
50%
Southern Barents Sea
PL767B*1
7120/3; 7121/1,2,3; 7122/1
50%
Southern Barents Sea
PL902B*1
7120/1,2
40%
Southern Barents Sea
PL1027*
7220/3; 7221/1,2,4,5
40%
Southern Barents Sea
PL1029*
7221/3; 7222/1,2,3; 7321/12; 7322/10,11,12
40%
Southern Barents Sea
*operator Lundin Norway
1 Geographical extension of existing licence
https://www.lundin-energy.com/wp-content/uploads/2019/09/apa-2018-post-map.jpg
528
792
dvdesign
https://www.lundin-energy.com/wp-content/uploads/2020/08/Lundin-220.svg
dvdesign
2019-01-15 16:30:32
2019-10-30 11:17:49
APA 2018 – 15 licences awarded in the Norwegian licensing round