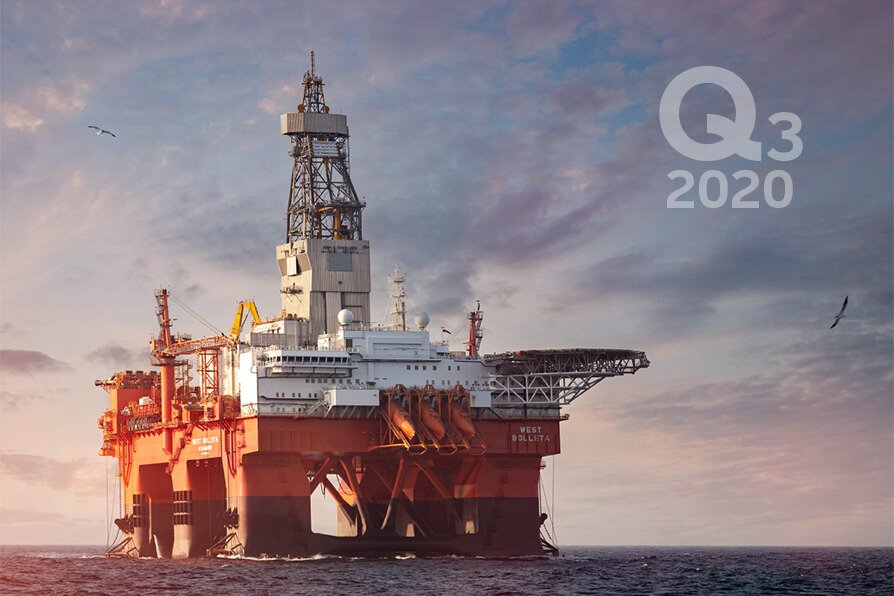 Report for the nine months ended 30 September 2020
30 October 2020
| | |
| --- | --- |
| • | Strong free cash flow generation of MUSD 546 with an achieved oil price of USD 38.07 per boe for the first nine months |
| • | Third quarter production of 157.5 Mboepd and free cash flow of MUSD 164 |
| • | Full year production guidance increased from 157 Mboepd to 161 – 163 Mboepd and fourth quarter production targeting approximately 175 Mboepd |
| • | Edvard Grieg reserves increased by 50 MMboe to 350 MMboe gross 2P ultimate recovery and plateau production extended by a further year to late 2023 |
| • | First nine months net carbon intensity for all assets of 2.7 kg CO2 per boe, below full year guidance of less than 4 kg CO2 per boe |
| • | Acquired portfolio of interests in the Barents Sea, including 10 percent working interest in high quality Wisting oil discovery and further interest in the Alta discovery from Idemitsu Petroleum Norge AS (IPN) for USD 1.80 per boe |
| • | High impact exploration programme commenced in October 2020, targeting more than 350 MMboe net unrisked resources from four wells |
| • | Nick Walker, COO, appointed President and CEO and Daniel Fitzgerald appointed COO from 1 January 2021 |
Financial summary

1 Jan 2020-




30 Sep 2020




9 months

1 Jul 2020-
30 Sep 2020
3 months
1 Jan 2019-
30 Sep 2019
9 months
1 Jul 2019-
30 Sep 2019
3 months
1 Jan 2019-
31 Dec 2019
12 months

Production in Mboepd

157.6

157.5

79.2
82.7
93.3

Revenue and other income in MUSD

1,784.7

687.0

2,199.0
1,215.0
2,948.7

CFFO in MUSD


Per share in USD
1,251.3


4.40

352.2
1.24
985.3
3.02
230.8
0.76
1,378.2
4.36
EBITDA in MUSD1
Per share in USD1
1,431.8


5.04

515.6
1.81
1,222.9
3.75
411.3
1.36
1,918.4
6.07

Free cash flow in MUSD


Per share in USD
545.7
1.92
164.2
0.58
1,117.9
3.42
950.5
2.91
1,271.7
4.03

Net result in MUSD


Per share in USD
80.5
0.28
212.3
0.74
669.6
2.05
519.9
1.72
824.9
2.61

Adjusted Net result in MUSD


Per share in USD
193.1


0.68

75.8
0.27
173.8
0.53
45.4
0.15
252.7
0.80

Net debt in MUSD

3,706.8

3,706.8

4,054.9
4,054.9
4,006.7
1Excludes the reported after tax accounting gain of MUSD 756.7 in 2019 on the divestment of a 2.6 percent working interest in the Johan Sverdrup project.

Comments from Alex Schneiter, President and CEO of Lundin Energy:
"Following a volatile and unpredictable first half of 2020, the third quarter was one of financial and operational discipline and delivery, capitalising on our strict cost control and efficient production portfolio, driving free cashflow for the nine months period to MUSD 546 and further deleveraging of the Balance Sheet.
"Although production was curtailed from June 2020 due to the Norwegian Government restrictions, our portfolio of producing assets has the capacity to produce considerably more and we enjoyed strong facilities and reservoir performance across the portfolio during the reporting period. We are pleased to report that in the fourth quarter 2020, our fields have been granted increased production permits by the authorities, meaning we will now target approximately 175 Mboepd for the fourth quarter, raising our full year production guidance to a range of 161 to 163 Mboepd, from the previously guided target of 157 Mboepd.
"The Edvard Grieg field has exceeded expectations ever since it came on stream in 2015 and during the quarter we were able to reiterate its outperformance once again, with a significant reserves increase and a further extension of the plateau production. This really has been a Company making asset and I believe it will continue to surprise on the upside, especially when taking into account the extensive surrounding prospectivity, which will provide further organic growth opportunities well into the future. At Johan Sverdrup, performance has continued on or above expectations and we look forward to the results of the next Phase 1 oil capacity testing, which will occur during the fourth quarter of this year.
"I am also very pleased that we have restarted our 2020 exploration programme with the Polmak well in the Southern Barents Sea in October 2020. Polmak along with three other high impact wells are targeting net unrisked resources of over 350 MMboe and each, if successful, has the potential to add significant value and future growth to the business. To supplement our successful organic growth strategy, I have always maintained that we would look to do opportunistic and value accretive M&A deals and we were pleased to announce in October 2020, the acquisition of a portfolio of assets in the Barents Sea from IPN for USD 1.80 per boe, including the large Wisting discovery. This package further crystalizes our position in the Southern Barents Sea and gives us a great entry into one of the next large oil developments in Norway. Also, the Company continues to be very active in all its other core areas, through maturing its existing licences and evaluating new areas of interest for future growth.
"On the decarbonisation strategy, we continue to progress the electrification of our key producing assets which will see over 95 percent of our production fully electrified by the time the Edvard Grieg platform is powered from shore by the end of 2022. We are also continuing to develop and invest in renewable projects with the aim to offset and replace all our net electricity consumption as well as continuing to invest in innovative solutions to further improve our overall production efficiency. Our ultimate objective is to be one of the first E&P companies to reach carbon neutrality from our operations. I'm pleased to say that we are well on track to achieve just that.
"On a personal note, I announced during the period, my intention to stand down as the President and CEO in January 2021 and hand over the reins to Nick Walker, the current COO. Nick is uniquely placed to lead this business into the next phase of growth. Having worked together for a number of years, I know that he shares the same passion and ambitions as I and the rest of the management team, to continue to be one of the most efficient, lowest cost and lowest emissions E&P businesses.
"I am standing down at a very exciting time for the Company; with its clear growth pathway, which is supported by one of the most efficient and lowest cost portfolios in the industry. One of my proudest achievements at Lundin Energy is being part of a business which I believe epitomizes how an E&P business can flourish and create value through the energy transition. The 'triple bottom line' of profitable growth, social progress and environmental benefit define this and when combined with the resilience of the Company to the oil price cycles, Lundin Energy is uniquely placed to continue to deliver significant growth in value and a sustainable material and growing dividend to shareholders in the years to come. In Lundin Energy we firmly believe that profitable economic growth and environmental benefits go hand in hand.
"The other vital factor I would like to highlight is the great team which has been created; this really is the highest quality team one can dream for, there is no better support network for Nick as he takes the helm in January 2021. I would like to thank all of my colleagues, the Board, shareholders and in particular the Lundin family who has supported me at Lundin Energy for the last 20 years. It has been an amazing journey for the Company and myself and I will continue to be a faithful and passionate Lundin Energy shareholder. For now it's Full Steam Ahead!"
Audiocast Presentation
Listen to Alex Schneiter, President and CEO, and Teitur Poulsen, CFO, commenting on the report at a live audiocast, to be held at 09:00 CET this morning (30 October 2020). Follow the presentation live on www.lundin-energy.com or dial in using the following telephone numbers:
UK/International: ….+44 207 192 8338
Sweden: ….+46 8 566 184 67
Norway:…. +47 21 56 30 15
USA: ….+1 646 741 3167
Access code/pin: 8031159
Link: https://edge.media-server.com/mmc/p/ga7xerab
https://www.lundin-energy.com/wp-content/uploads/2020/10/Q3report-2020.jpg
596
894
Davide Gaio
https://www.lundin-energy.com/wp-content/uploads/2020/08/Lundin-220.svg
Davide Gaio
2020-10-30 07:30:50
2020-10-30 08:12:16
Report for the nine months ended 30 September 2020