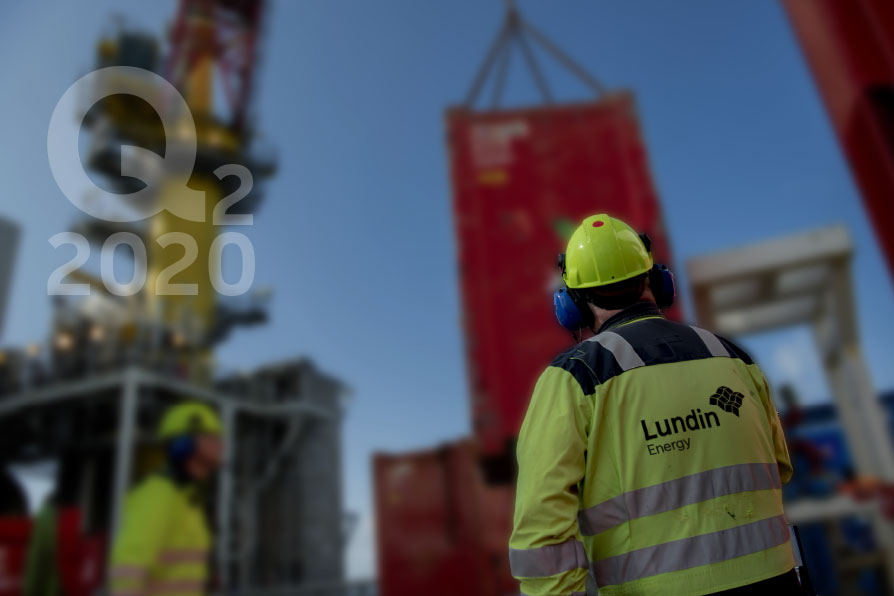 Report for the six months ended 30 June 2020
29 July 2020
| | |
| --- | --- |
| · | Despite very low oil prices, free cash flow was positive from the oil and gas operations in second quarter and over MUSD 380 free cash flow for the six months period |
| · | Record quarterly production of 162.9 Mboepd in the second quarter |
| · | Accelerated ramp up and increased phase 1 plateau production at Johan Sverdrup; phase 1 capacity of 470 Mbopd to be tested for further upside, during second half of this year |
| · | Significant increase in liquidity during the period from cost reductions and phasing, tax incentives and additional debt facilities |
| · | Continued out performance at Edvard Grieg; increase in reserves and extension of plateau production anticipated |
| · | Eight potential projects to be accelerated due to recent Norwegian tax incentives, targeting over 120 MMboe of net resources |
| · | Awarded credit rating of 'BBB-' with stable outlook by S&P Global, confirming strength of liquidity and credit position |
Financial summary

1 Jan 2020-




30 Jun 2020




6 months

1 Apr 2020-
30 Jun 2020
3 months
1 Jan 2019-
30 Jun 2019
6 months
1 Apr 2019-
30 Jun 2019
3 months
1 Jan 2019-
31 Dec 2019
12 months

Production in Mboepd

157.7

162.9

77.5
76.1
93.3

Revenue and other income in MUSD

1,097.7

402.5

984.0
499.9
2,948.7

CFFO in MUSD


Per share in USD
898.1


3.16

259.8
0.91
754.5
2.23
408.7
1.21
1,378.2
4.36
EBITDA in MUSD1
Per share in USD1
916.2


3.23

335.1
1.18
811.6
2.40
411.9
1.22
1,918.4
6.07
Free cash flow in MUSD2
Per share in USD2
381.5
1.34
-25.2
-0.09
167.4
0.49
71.6
0.21
1,271.7
4.03

Net result in MUSD


Per share in USD
-131.8
-0.46
178.8
0.63
149.7
0.44
96.2
0.28
824.9
2.61

Adjusted Net result in MUSD


Per share in USD
117.3


0.41

51.3
0.18
128.4
0.38
69.5
0.21
252.7
0.80

Net debt in MUSD

3,796.1

3,796.1 

3,359.3
3,359.3
4,006.7
1Excludes the reported after tax accounting gain of MUSD 756.7 in 2019 on the divestment of a 2.6 percent working interest in the Johan Sverdrup project.
2Includes renewable energy business. Free cash flow for second quarter 2020 excluding renewable energy business was MUSD 19.5 positive.

Comments from Alex Schneiter, President and CEO of Lundin Energy:
"The resilience Lundin Energy has shown in the face of the sharpest downturn in the history of the oil industry is a testament to the quality of the asset base, flexibility of our financial resources and operational excellence of the business and our people; this has been further demonstrated by the award of a 'BBB-' credit rating. We generated over MUSD 380 of free cash flow in the period and delivered a positive free cash flow result from the oil and gas operations for the second quarter. This all in a period where we encountered some of the lowest realised pricing we have witnessed, both when taking into account the historic negative dated Brent differential and physical discount; a situation which has now normalised and in fact we are witnessing premiums for our barrels in the market again.
"The risk posed by coronavirus presented a unique challenge to the offshore industry and following swift and effective action, any potential threat was mitigated and all of our staff have come through the period safely and we saw no disruptions to production. As we enter the second half of the year, all offshore facilities have returned to normal manning levels and the projects are progressing on plan.
"Although faced with an uncertain market backdrop, operationally Lundin Energy performed exceptionally well. Johan Sverdrup reached its increased plateau rate of 470 Mbopd in April 2020 and since then a further new production well has been completed. The capacity of the facilities will be tested for further upside in the second half of the year. At Edvard Grieg, reservoir performance continues to exceed expectations. The reservoir model is currently being updated along with the recently completed 4D seismic survey and we already see clear potential for a further increase in reserves and an extension of the plateau production.
"The Norwegian government also played an active role during the period; establishing a tax incentive package which as well as improving near term liquidity also significantly improves future project economics assuming plan of development(s) are submitted prior to end of 2022. The Company has identified up to eight potential new projects targeting over 120 MMboe of net resources, which could benefit from these tax incentives. We will be aiming to accelerate appraisal activities and field development studies for all of these potential projects, with the objective of maturing them to sanction prior to the deadline at the end of 2022.
"As well as maintaining a very low operating cost base during the period of USD 2.78 per boe, we were also able to deliver a carbon emission per barrel produced of 2.8 Kg CO2, which is 50 percent lower than in 2019 and significantly below our emission target in 2020 of 4 kg CO2 per barrel produced. Our carbon footprint will be further reduced by the end of 2022 when the Edvard Grieg field will be fully electrified using mostly onshore renewable electricity. By then we will be targeting less than 2 Kg CO2 per barrel produced and be close to our objective of reaching carbon neutrality from our operations.
"The second half of the year will see us resuming exploration activities in the fourth quarter, as well as continuing to focus on maintaining strict capital discipline and opportunistically looking to take advantage of this low point in the cycle to complement our portfolio. It is times like these which show the true mettle of a business and I would like to take this opportunity to thank all staff for their hard work and determination, as we not only successfully traded through this difficult period but are indeed in a stronger and fitter position. As the founder of the Lundin Group, Adolf Lundin, used to tell me, "when the going gets tough, the tough get going!"
Audiocast Presentation
Listen to Alex Schneiter, President and CEO, and Teitur Poulsen, CFO, commenting on the report at a live audiocast, to be held at 09:00 CEST this morning (29 July 2020). Follow the presentation live on www.lundin-energy.com or dial in using the following telephone numbers:
UK/International: ….+44 207 192 8338
Sweden: ………………..+46 8 566 184 67
Norway: ………………..+47 21 56 30 15
USA: ……………………..+1 646 741 3167
Access code/pin : 4291718
Link : https://edge.media-server.com/mmc/p/pa874z3y
https://www.lundin-energy.com/wp-content/uploads/2020/07/Q2-2020-post-1.jpg
596
894
Keith
https://www.lundin-energy.com/wp-content/uploads/2020/08/Lundin-220.svg
Keith
2020-07-29 12:53:26
2020-07-29 12:59:09
Report for the six months ended 30 June 2020