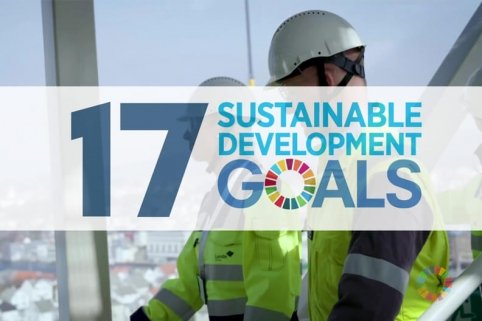 Contributing to the Sustainable Development Goals
13 September 2018
As a leading independent oil and gas company in Europe, Lundin Petroleum develops its resources efficiently and responsibly, playing its part in achieving a sustainable and low carbon energy future.
We conduct all our oil and gas exploration and production activities in Norway, a country which is recognised internationally for its leading governance when it comes to protecting health, safety and the environment. Early on Norway took a pro-active role to address one of the key challenges of our time: to provide future generations with clean and affordable energy. Through a robust regulatory framework and investments made by the industry, Norway has succeeded in producing oil and gas with a carbon intensity that is half of the world average, while promoting the use of renewable energy within the oil and gas sector.
Access to affordable and reliable energy is, and will continue to be, a decisive factor in driving development and reducing poverty in the world. While we are moving towards a new energy system, fossil fuels are forecasted to remain a dominant energy source up until at least 2040. It is therefore critical that we address the challenge of satisfying future energy demands, required for global socio-economic development in a manner that is consistent with the goals set out by the Paris Agreement.
At Lundin Petroleum, we seek to be part of the energy transition by providing affordable and reliable energy that is produced with the lowest possible carbon footprint. We are in fact best in class in this area with a carbon intensity per produced barrel of oil that is among the lowest in our industry – about half of the Norwegian average. We have managed to achieve this through a focus on innovative practices and investments in best available technology. The same creative mind-set that lies behind our successes on the Norwegian continental shelf over the years, has led us to become an industry leader for producing low carbon intensity oil and gas.
The future for Lundin Petroleum looks bright. We will continue to search for innovative ways to carry out our activities so we can contribute to a sustainable energy future. The Johan Sverdrup discovery in the North Sea is one of the largest oil discoveries ever made on the Norwegian continental shelf and is scheduled to start production in late 2019. Due to a solution that will source electricity for operating the platforms from land, CO2 emissions will be considerably reduced and make Johan Sverdrup one of the, if not, the most carbon efficient fields in the world.
Our industry has a big responsibility – and opportunity – to play a part in providing energy that is efficiently produced. But we all have a role to play, including investors and consumers who can choose to support companies that are dedicated to limiting their carbon footprint. Climate change requires unprecedented action and collaboration between various societal actors. Lundin Petroleum is actively supporting the SDGs across its core business, both SDG 7 on affordable and clean energy and SDG 13 on climate action. We strive to be ahead of the game and an industry leader. As our CEO likes to remind us "the train has left the station" and it is the innovative companies with a focus on sustainability and that have chosen to lead on climate action that will succeed in the long term.
https://www.lundin-energy.com/wp-content/uploads/2019/09/sustainable-development-post.jpg
528
792
dvdesign
https://www.lundin-energy.com/wp-content/uploads/2020/08/Lundin-220.svg
dvdesign
2018-09-13 15:39:22
2019-10-30 11:29:35
Contributing to the Sustainable Development Goals